This is a bit of an unusual post as it's not a recipe or a review but a list of things I want to bake in the future. I'm interested in hearing whether you've baked any and what you'd recommended. Leave a comment below and tell me what you think!
Cakes
Apple/ Apple Crumble Cake
Carrot Cake
Rhubarb Cakes
Tiger Cake
Blueberry Muffin Loaf
Raspberry Torte
Blackberry and Apple Loaf Cake
Dark and White Fudge Cupcakes
Chocolate Cherry Layer Cake
Lemon and Elderflower Drizzle Cake
Chocolate and Cherry Layer Cake (Picture from www.cookingclub.com)
Desserts
Banoffee Pie
Lemon/Chocolate Soufflés
Chocolate and Raspberry Roulade
Queen of Puddings
Lemon Tart
Trifle
Chocolate Orange Cheesecake
Orange Tart
Chocolate and Raspberry Roulade (Picture from www.goodtoknow.com)

Other Sweet Things
Éclairs
Chocolate and Cherry Cheesecake Brownies
Macaroons
Whoopie Pies
Cake Pops
American Pancakes
Cranberry and Orange Scones
Rocky Road
Oat and Raisin Cookies
Scones that actually look like scones (I had a bit of a disaster with my last batch)
Millionaire Shortbread
Jammy Dodgers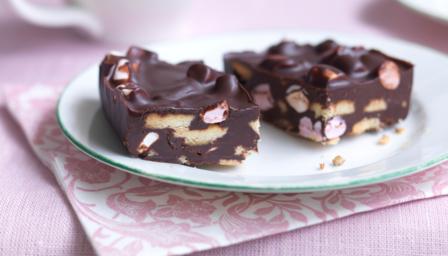 Rocky Road (Picture from www.bbc.co.uk/food)
Bread
Brioche Dough
Cinnamon Breakfast Loaf
Pan au Chocolat
Breakfast Muffins
Sunflower Seed Rolls
Focaccia
3 Seed Crown Loaf
Rosemary and Sea Salt Focaccia (Picture from www.bbc.co.uk/food)
Wow that was a lot! better get started!
Happy Baking!
x